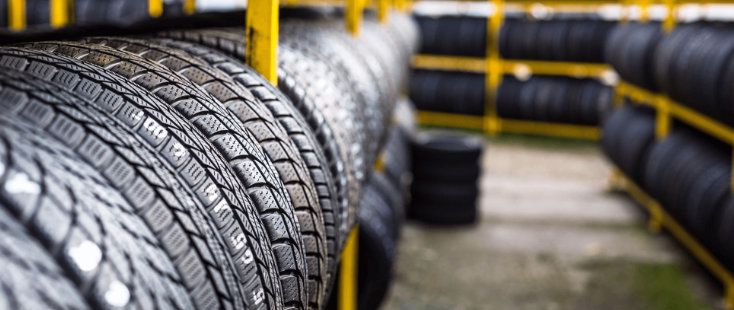 About your Tyres
Here at Fitzpatrick's Garages Kildare, we understand the importance of your tyres as one of the most important components of your vehicle as well as keep you and your passengers safe. That's why we are committed to ensuring your tyres are both safe and legal.
We stock all sizes at the best prices! Call us today on 045 533 300!
Tyre Tread Measurements
Tyres are measure by taking three readings across the width of the tyre starting with the outside tread depth measurements. There can be a wide variation in the readings signifying certain things, for example a ready of 7,5,3 may indicate the need for a four wheel alignment check.
Our expert and trained mechanics are on hand to check your thread depth, just call us on 045 533 300 to book your car in for a check.
Here's a guide to remaining tyre depth:
| | |
| --- | --- |
| 8mm | Your tyre is 0% worn |
| 7mm | Your tyre is 15% worn |
| 6mm | Your tyre is 31% worn |
| 5mm | Your tyre is 47% worn |
| 4mm | Your tyre is 62% worn |
| 3mm | Your tyre is 78% worn |
| 2mm | Your tyre is 94% worn |
| 1.6mm | Your tyre is 100% worn |



Key

Green: In good condition

Yellow: Inspect monthly

Orange: Will not last long

Red: Legal limit




Maximum tread depth = 8mm

Minimum legal limit = 1.6mm*

Reccomended minimum thread depth = 3mm

*Centre 75% of the breadth and around the entire circumference.
Illegal Tyres
Apart from the safety considerations, driving with unsafe tyres leaves you open to prosecution and fines by the Garda Siochana.
How can Fitzpatrick's help?
Here at Fitzpatrick's Garages we will check and advise you on the condition and the correct replacement of your tyres. We provide a truly one-stop shop for all your car needs. As well as carrying an extensive range of tyres at very competitive prices, we also carry out:
Wheel Balancing & Tracking
Computerised 4 Wheel Alignment
Contact us today on 045 533 300 to speak to our Service Advisors about servicing your car, having your tyres checked, wheel alignment and much more. Alternatively, you can book a service online using the red button below.